Dear Steven,
Thank you so very much for the cookies and milk.
I think you will like the cars and other gifts that
l brought for you. Continue to be a good boy.
I'll see you again next year.
Merry Christmas and Happy New Year, to you and your Family.

Love,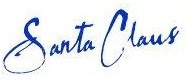 December 25, 2010